INCLUSIVE SPORT
The Leicester Tigers Foundation have been coming in to school to work with different classes to teach wheel chair rugby.
The Leicester Tigers Foundation utilises the power and expertise within Leicester Tigers Rugby Club to help make a positive difference to the lives and opportunities of 1000's of individuals and groups every year. The focus of the foundation is driven by its core values helping others across five key areas – Disability in Sport, Community Cohesion, Health, Education and Charities.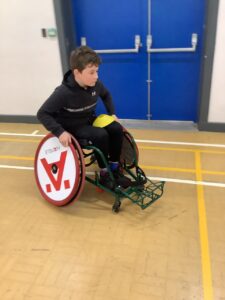 Every week the foundation organise a 'lunch club' for both upper and lower school and then teach a wheel chair rugby PE lesson.
The pupils have really enjoyed learning this inclusive sport as well as it engaging pupils who have previously been less keen to take part in PE or physical activities.
It has taught the pupils team work skills and how we can work together to achieve a common goal.
Thank you so much to the team at the Leicester Tiger Foundation for all their support!
CLICK HERE to view a short video of one of the Foxfields matches.